Travel
Take a road trip to San Francisco
Take a road trip to San Francisco
 A road trip to San Francisco
Sparkling Bay, Magic City
Start your trip to one of the world's great cities. For a novel way to explore "the city by the Bay" park your car and explore by foot, bike, and unique public transportation. Pedal bikes across the Golden Gate Bridge and back, then explore the lush Presidio, a former military base that's now a park, or head into Golden Gate Park to visit museums and row across a secret gem, Stow Lake. Continue along the flat Embarcadero to Fisherman's Wharf and the Exploratorium science and learning museum.
Return your bikes and hop a cable car to ride over the hill to the high-end shops and enormous Macy's, NikeTown, Saks Fifth Avenue, and Neiman Marcus around bustling Union Square, with a stop for Italian pastries and cappuccino at Emporio Rulli right in the square. Nearby, stroll boutique-lined Maiden Lane—pedestrian only thoroughfare during the day, when cafes set up tables and chairs right in the street. Nearby Westford Mall, a dazzling complex on once scruffy but now spiffed up Market Street, glitters with even more stores, including an deluxe food court on the lower level. At night, catch a show in the theater district. For more nightlife and dining, stroll Valencia Street in the Mission, a trendy and eclectic hotbed of restaurants and bars.
POINT REYES NATIONAL SEASHORE
So far out you seem to be in the sea
Journey north through coastal mountains and valleys to this remarkable peninsula at the north end of Marin County. Jutting dozens of miles out into the sea, this extraordinary peninsula is loaded with amazing discoveries, including remarkable wildlife, deep forests, dramatic sea cliffs, and remote beaches.
To get yourself oriented, stop by the outstanding Bear Valley Nature Center with kid-friendly displays, maps, and helpful rangers. The fairly flat, stroller-friendly Bear Valley Nature Center makes a popular leg-stretch or bike ride.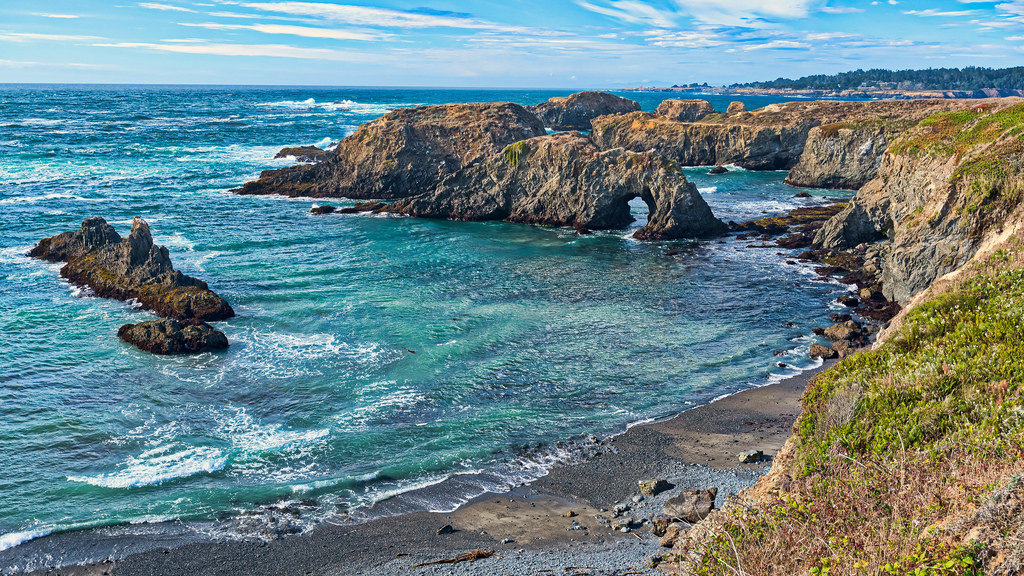 No matter what time of year you visit, there's something extraordinary to see and do. In winter, travel to the tip of the point (a shuttle takes you the last few miles) to look for migrating gray whales passing remarkably close. (It helps when you just out into their swimming lanes). In spring, walk the trail to Chimney Rock to see countless wildflowers (look for puffins nesting on oceanfront cliffs), or follow a trail lined with irises into a rare Bishop pine forest. In summer, watch the cool fog tumble in, then have a cup of cocoa in the cozy village of Point Reyes Station. And in fall, listen for the eerie bugle of tule elk bulls; can usually spot individuals or small herds of these native elk in the Tomales Point preserve area, at the tip of the park.
Art and culture merge with Mother Nature in this fairytale village by the sea
Continue north along the wild coast (plenty of turnouts for photos) to this charming hamlet, perched on a wave-carved headland, sandwiched between thick forests and a restless sea. With fewer than 1,000 year-round residents and this remote location, Mendocino offers tranquility in a spectacular North Coast setting. Mendocino's dramatic location is a natural magnet for artists, and you can often see them, easels propped and paint palettes out, capturing the scene on their canvases. Mendocino is meant for walking, so stroll the little streets with shops selling local artwork, then pop in for a coffee and chat with the locals. Take a walk along the bluffs, especially at sunset on fog-free evenings. The region's wild natural setting and isolation have also drawn alternative thinkers and environmentalists, and the word "organic" pops up on many a menu. Victorian-era homes, converted into B&Bs in every level of poshness, look like gingerbread houses come to life. Mendocino also knows how to throw a good party, especially when it comes to food, and annual festivals celebrate, as well as the region's largest inhabitants, whales.
Head to Fort Bragg for a trip through coastal redwoods on the historic Skunk Train.
AVENUE OF THE GIANTS
Drive an unforgettable route through towering redwoods
From Fort Bragg and the Skunk Train fun, continue northeast to this remarkable route—a narrow strip of U.S. 101 with coast redwoods so close and so tall that they create a dramatic wall of enormous russet trunks rocketing skyward as you wind through the forest.
Some of the route's 32 miles/56 kilometres passes through the impressive stands protected within Humboldt Redwoods State Park (for more details, see next stop). Aside from the park and the sheer beauty of the drive, there are other historic finds along the way, such as the lookalike cottages in the tiny town of Scotia, once a booming "company town" for the local lumber company. And there are a handful of gift shops with tables made out of redwood burls, and folksy attractions that can add a kitschy charm to your visit. Order an espresso in the famous One Log House (we know it's famous because it says so right on its sign) and the privately owned (in other words, there's a fee) Shrine Drive Through Tree. This is the kind of stuff that it really is fun to buy a bumper sticker and say you did it when you get back home.
Plan time now to explore historic and impressive Humboldt Redwoods State Park.