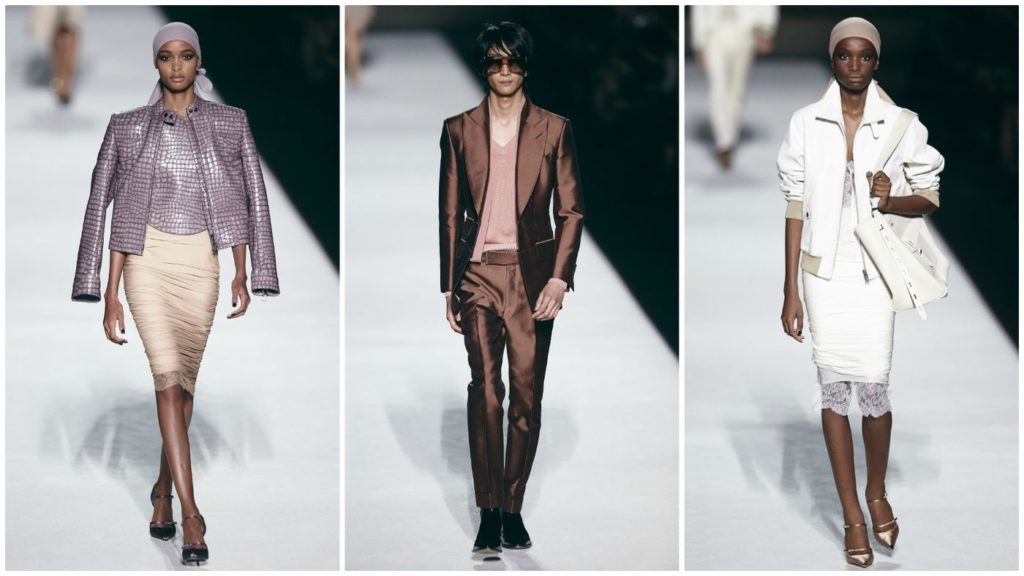 Tom Ford's spring/summer 2019 men's and women's runway collection, which kicked off the season's official slate of New York Fashion Week shows here, felt like an about-face — or at least a reset — for the designer, whose runway clothes have been deliciously and deliriously over-the-top for the last few seasons, culminating in fall/winter 2018's cacophony of bright color, menagerie of animal prints and assortment of "pussy power" purses and shoes.
Collection
There was plenty of classic black, but it's the skintone and neautral hues that stood out. "Flesh colours are sensual and have a warmth and humanity that I think that we all crave at the moment.  Warm white, powder blue and the palest of lilacs and blush pink are important colours in the collection," said Ford.
"Fabrics alternate between the softness and romance of lace, chiffon, georgette and even the lightest stretch leather, and the structure of harder leathers and fabrics, and the sheen of fake crocodile.  Chiffon, leather and lace play off of each other in this contrast of hard and soft," he adds.
He played with hard and soft silhouettes and blended them together to create sophisticated ensembles, for example the soft flowing dresses with structured jackets or soft skirts with corseted tops. There's a sense of vulnerability, but with a determined attitude and of course plenty of after dark glamour when it comes to eveningwear. That feel spilled into the men's pieces: "Both collections are unified in colour, mood and a certain romance," he said.