Food
10 Favorite Vegan restaurants
10 Favorite Vegan restaurants
There's never been a better time to be meatless in America. Plant-based burgers are achieving the impossible. People are figuring out how to make incredible burgers out of cantaloupe. They're making huge strides in lab-grown meat, although the vegetarian status of that is certainly up for debate. Also, perhaps most importantly, these 21 plant-based restaurants exist as not just fantastic examples of vegan and vegetarian fare*, but top restaurants, period.

Blossoming Lotus has quietly endured for the past decade, a small, elegant destination for plant lovers tucked amid the strip malls and chain restaurants of Portland's Lloyd District. And for good reason: Dishes like the chickpea chana masala curry and a bibimbap with peanut soy curls get huge marks for culling tremendous flavors from their Asian influences, while the place's house-made "cheeses" are rich and creamy enough to give a Wisconsonite pause, especially in the killer mac & cheese kicked up with herb breadcrumbs. Throw in a selection of raw options and killer smoothies (and smoothie bowls), and it's no wonder the place has managed to survive as long as it has. The real wonder is why not nearly enough people are talking about it.
AUSTIN, TEXAS
Many an Austin herbivore will brave Bouldin Creek's inevitably robust brunch line because they're hopelessly hooked on the vegan chorizo at this popular plant-based diner and coffee house. They're not just a Tex-Mex operation, however — you'll find a hearty soul food plate with beans and maple-braised collards accompanied by a hunk of vegan cornbread, a massaman curry bowl studded with mushrooms and zucchini, and and Italian riff on fajitas (you're still in Texas). Don't miss scratch vegan desserts like pear gingerbread upside down cake and blueberry lavender pie.
BU LAN THAI

LOS ANGELES, CALIFORNIA

Whether you're a vegetarian or not, Bulan is a beloved Thai treasure that won't leave you compromising taste (or general happiness) with its meatless menu. Well-known for having an incredibly attentive staff, they take traditional Thai dishes and creatively turn them into bold and delicious vegetized versions that still manage to pack the same punch. Soy Thai iced teas, satisfyingly juicy deep-fried veggie hot wings, and umami-rich "chicken" pad see-ew (pan-fried flat rice noodles with broccoli) keep Angelenos of all levels of carnivorousness coming back to curb their Thai cravings.
Ethiopian cuisine is generally fairly vegan-friendly to begin with, but Bunna Cafe's revelatory, entirely vegan take on it has made it stand out, first as a pop-up and Smorgusburg vendor that transitioned to brick-and-mortar status a few years back. Find a hungry friend, split the feast for two, and find yourself treated to a spread of nine veggie-based dishes like shiro (a mash of fragrant yellow split peas simmered in spices) and misir wot (spiced red lentils) heaped onto injera flatbread — there's more of it on the side for your scooping and eating convenience. There's always a different seasonal special in the mix, which gives you some incentive to return, not that you needed it.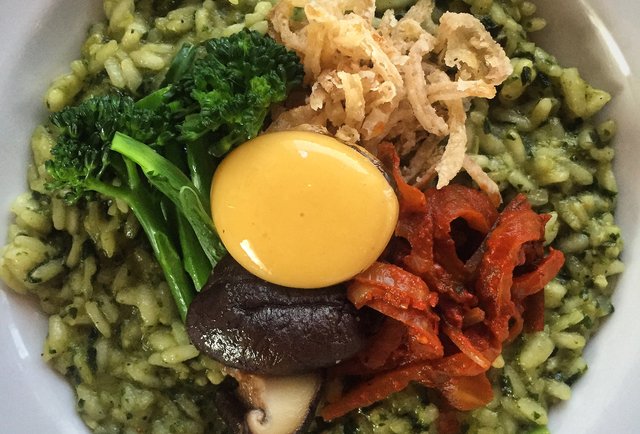 This sophisticated Melrose Avenue institution offers seasonally evolving Mediterranean-inspired small plates and well-crafted cocktails for an upscale, plant-based dining experience. Their artichoke oysters center around a crispy oyster mushroom (although, some do argue that oysters themselves are vegan-friendly) enhanced with artichoke puree, yellow tomato bearnaise, and kelp caviar. "Crabcakes" are made with hearts of palm, presently sidekicked by Granny Smith apples, roasted beets, and horseradish aioli. Mustard-glazed parsnips with fermented cabbage are actually… parsnips and cabbage. Not everything has to be clever.
Elizabeth's Gone Raw is a culinary gift to the world (veghead or not) opened by Elizabeth Petty, who was introduced to the benefits of vegan and raw foods when she was fighting breast cancer. Only open on Friday nights, you don't even have a say in what you're eating, as they only have a prix fixe six-course tasting menu that changes on a weekly basis. Past menus have included savory options like smoked "crab" flan, roasted "chicken" with quinoa, peaches, fennel, marjoram & pink peppercorn, black truffle-fried cauliflower with sun-dried tomato sauce, and white peach & jasmine crisp. Sure, your final bill may well approach steakhouse prices, but a dining experience this masterful is worth the price.
SAN FRANCISCO, CALIFORNIA
What started as Mexican meals Terces Engelhart cooked on the Be Love Farm for those around her morphed into Gracias Madre when she discovered there was nowhere in the Bay Area to consistently get vegan, non-GMO Mexican. Since that important realization, everyone vegan, vegetarian, and otherwise has flocked to the Mission eatery (which now has a SoCal outpost in West Hollywood as well) for her incredible plantain-filled empanadas, enchiladas con mole with cashew cheese, and pretty much everything else.
GREENS SAN FRANCISCO, CALIFORNIA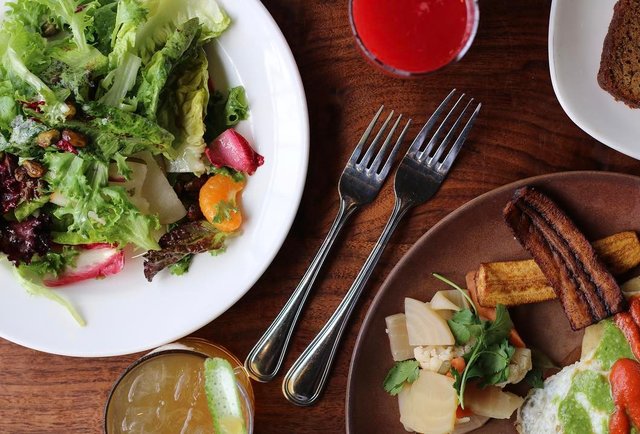 An OG on the vegetarian front that goes back to 1979, Greens is the real deal: A legit, upscale restaurant in a striking space within Fort Mason that basically showed America that you can still eat really, really well without all the meat and cream and all the other things that were associated with fine dining back during the fall of disco (and still are, to some extent). Though founding chef Deborah Madison has passed the reigns onto Annie Somerville (who herself has been there since '81), the food continues to pull in people from all across the world. You're not to mess around here: get the prix fixe, sit back, and be blown away when you realize all the next-level things she can do without the magic crutch of bacon.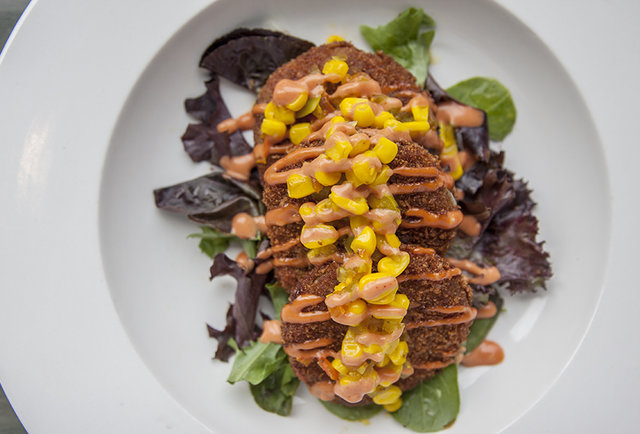 This Logan Square favorite has built up quite the following in recent years largely on the strength of shockingly satisfying sandwiches like their take on the Jibarito, a vegified take on the classic Puerto Rican sandwich which houses homemade seitan, poblano, onion, garlic, greens, American cheese, and garlic mayo between smashed plantains. Their po-boy is stuff with juicy, battered portabello nuggets that provide a satisfying base for pickled red onions, spicy greens, and garlicky aioli. Staying Southern (at least relative to Chicago) their Nashville hot tofu with garlic smashed potatoes and beer-braised kale is as tasty as it is face-meltingly spicy. May God's love be with you.

Brooks Headley's vegetarian burger operation launched in 2015 and has had New Yorkers reevaluating their stance on veggie burgers pretty much from the beginning. The melty Muenster on the small but mighty burger (the patty's primarily made from beans, nuts, and quinoa) is definitely part of the satisfaction, but the vegan rendition still impresses as well. Definitely save room for some of the specials inevitably dotting the wall, however, as there's a solid chance you'll find yourself craving it upon your inevitable return, only to see it replaced with something else amazing.